Whether you choose our hotel for your honeymoon, vacations or for professional obligations, you must not miss to spend some relax time in our brand new heated swimming pool situated right next to our brand new spa.
Take the time to make the most of our deckchairs for a spot of relaxation in the sun.
Our brand new infinity pool is the ultimate extravagance in Athina Luxury Suites' remarkable setting.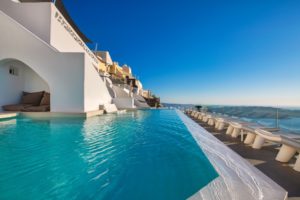 All you need is to lay on the comfortable lounger and enjoy cocktails and drinks while you admire the perfect view in front of the glass windows.
During your stay the extraordinary landscape that surrounds our hotel makes you peaceful and gives you the chance to dive at 30ο to 32o C.
Relax and let us offer you a unique experience of rejuvenation and revival while enjoying stunning panoramic views to the Caldera of Santorini.
This is a real show for the delight of our guests. Loungers and linens, a brand new pool bar and a long list of cocktails to enjoy inside the heated water are available to you till the magnificent sunset with its astonishing colours in the sky.
Access is free of charge for hotel guests who can also take the time to enjoy a cocktail by the water when the pool bar opens from early in the morning.
Your stay here means much more things to us!
Panagiotis Inglesis is the co-owner and General manager of Athina Luxury Suites, along with his wife Mrs.Artemis Argyrou. Together they had a vision to create one of the best boutique hotels in Santorini and today they continue their vision…Athina Luxury Suites is considered one of the top hotels on the island.