Do you want to discover an evocative part of Santorini while stopping to enjoy the stunning caldera views?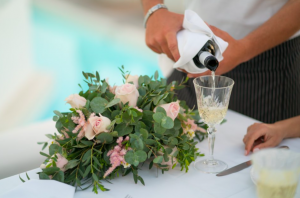 It is not a secret that the island has some of the most amazing wineries and wine tours in the world. And there is a very good reason for it!
Taste the award-winning volcanic wines of Santorini as you move between the most legendary wineries of the island.
Learn everything about the peculiar viticulture system "kouloura" of the famous indigenous variety Assyrtiko, the only life form that managed to survive the huge volcanic eruption which took place at 1630 B.C. and changed the whole face of the island.
Have the chance to:
Enjoy personalised attention and hear interesting facts about wine from your wine-expert guide
Take part in one of a kind experience, ideal for all individuals who enjoy wine, regardless amount of knowledge
Note: Wine tours are incredibly popular on Santorini and they fill up quickly, so book early!
For more information or requests contact us at info@athinasuites.com
You are going to love wine tasting in Santorini! It's a MUST after all!
Panagiotis Inglesis is the co-owner and General manager of Athina Luxury Suites, along with his wife Mrs.Artemis Argyrou. Together they had a vision to create one of the best boutique hotels in Santorini and today they continue their vision…Athina Luxury Suites is considered one of the top hotels on the island.