---
airport of Santorini
We have some great news to announce for all travellers to Santorini…the new airport is finally ready and fully working!
It's true, after years of waiting the new airport of Santorini is finally a modern facility to serve all the needs of the island, especially the high season months of the island.
Spacious waiting rooms, multiple check-in desks, -at last- modern rolling tracks for luggage, shops, coffee and snack points and much more to discover in a high class, modern, international airport.
Of course the whole building is air-conditioned and has a coverage of fast wi-fi. In all areas of the airport there is also 5G cell network coverage.
 This is finally the airport that Santorini deserves!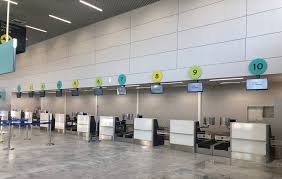 Ilias Kantzelis has a degree in Business Administration from the University of Macedonia at Thessaloniki. Fan of good health and gymnastics, he is one of the newest executives at Athina Luxury Suites bringing new ideas and technologies to the hotel. He is a very good driver and he likes fast cars…Athina's steering wheel is waiting for him!