The volcanic island of Santorini has topped many European lists thanks to its beauty. Stunning beaches, picturesque streets with white-washed buildings, luxurious resorts with amazing views to the Aegean and the famous sunset in Imerovigli are a poll of attraction for both Greek and foreign tourists.
According to Global Traveler magazine, Santorini was voted the best island in Europe for the 5th Consecutive Year!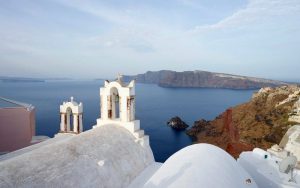 See the results:
BEST ISLAND IN EUROPE
1. Santorini
2. Ireland
3. Mykonos
4. Sicily
5. England
6. Capri
7. Elba
8. Crete
9. Sardinia
10. Jersey, United Kingdom
Read also..
Throwback Thursday – back to 2014:
Santorini was voted as the world's best island, leaving behind three islands of cluster of Hawaii, from the readers of Travel+Leisure magazine, a New York-based monthly magazine with 4.8 million readers worldwide.
The complete list of best islands in the world were:
Santorini
Maui Hawaii
Kauai, Hawaii
Hawaii
Bali, Indonesia
Oahou, Hawaii
Galapagos, Ecuador
British Virgin Islands
Vancouver Island, Canada
San Juan
This is your best reason to visit Santorini and Athina Luxury Suites! 
Panagiotis Inglesis is the co-owner and General manager of Athina Luxury Suites, along with his wife Mrs.Artemis Argyrou. Together they had a vision to create one of the best boutique hotels in Santorini and today they continue their vision…Athina Luxury Suites is considered one of the top hotels on the island.