Clusters of whitewashed houses, multicoloured cliffs, crystal blue waters, stunning sunshine most of the year and picturesque sunsets that spill onto the coastline as you gaze into each other's eyes and say 'I do.'
Sounds like a dream, right? A dream location for a wedding and honeymoon!
Santorini in the Cyclades has always been an absolute favourite for overseas couples who want to celebrate in a wonderful setting, as weddings in Santorini are the ultimate romantic affair.
The ceremony can be held at the edge of the Caldera, by a pool, in a restaurant or on the beach. The backdrop of the volcano and breathtaking sunset promise treasured memories for years to come.
Athina Luxury Suites hotel is the perfect setting for your Santorini wedding! Elegant wedding ceremony & reception on the Caldera, magical sunset from the wedding terrace, spacious indoor & outdoor spaces, delicious choice of wedding menus by our multi awarded restaurant, 'Esperisma'.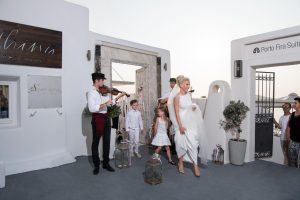 The mystic beauty, the legends, the breathtaking sunsets, the romantic atmosphere, the deep blue sea, the volcano, are just some of the reasons that couples around the world choose Santorini and Athina Luxury Suites hotel for their dream wedding experience and honeymoon.
Panagiotis Inglesis is the co-owner and General manager of Athina Luxury Suites, along with his wife Mrs.Artemis Argyrou. Together they had a vision to create one of the best boutique hotels in Santorini and today they continue their vision…Athina Luxury Suites is considered one of the top hotels on the island.