Santorini is not like any other greek island!
It is the most magical island in Greece with incredible views, awesome food, luxurious hotels, great boat and wine tours, ideal also for a honeymoon or romantic holiday.
It's the most visited island in Greece* and it requires some proper planning and research to get the best deals, to do all the amazing things that the island offers and also to make sure that you are aware of the things you need to plan in advance.
*There's no denying the uniqueness of this destination or its huge allure – Santorini hosts 1.5 million tourists annually.
The best months to visit Santorini are from June to September when the weather is warm and sunny and the sea is great for swimming. Late April, May, October, and early November are good times if your interests tend more towards sightseeing than swimming and suntanning.
At least 3 full days in Santorini are needed for a good visit. But 5 to 7 days is what I recommend to really experience the best of the island.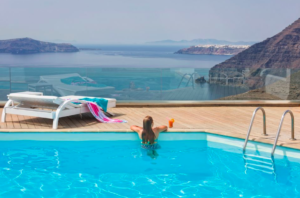 The best advice we have is to
book your hotel early
(
6 to 8 months in advance if possible
) as the hotels fill quickly.
It's never too early to book your 2019 holidays and there are so many reasons to do so. For example, it is a first class opportunity to start dreaming, organising and thinking about something that is definitely meant to be the journey of a lifetime. The unique landscape of Santorini will ensure that the activities, like sailing, will make you part of the island's life and the tastes will enchant you. So why letting everything for the last minute? It is not so holidays wise!
You'll remember a trip to Santorini for the rest of your life and surely if you stay with us at
Athina Luxury Suites.
"The World is a book, and those who do not travel read only a page."
– Saint Augustine
Important Note:
Athina Luxury Suites supports MSF Médecins Sans Frontières Greece (MSF)| Γιατροί Χωρίς Σύνορα (ΓΧΣ)
It's for a good cause…a small contribution from us is a big help for other people…
Thank you very much!
Panagiotis Inglesis is the co-owner and General manager of Athina Luxury Suites, along with his wife Mrs.Artemis Argyrou. Together they had a vision to create one of the best boutique hotels in Santorini and today they continue their vision…Athina Luxury Suites is considered one of the top hotels on the island.