One of the top things to do while here is enjoy the sunset as it is said -and it is true- that Santorini's sunsets are among the most sought-after phenomena in the world.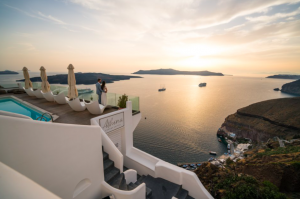 To realise the importance of the island's sunset you only have to think that photographers from all over the globe have shot amazing photographs from every possible different angle and you are the privileged one that gets to see it happening so do not leave it out of your program.
At Athina Luxury Suites every suite offers dramatic views of the volcano, the glittering Aegean Sea and stunning sunsets. How the colours seen in the sky are purple, yellow to orange red and how this golden sun will remain in your memory for ever.
Also, Esperisma, our awarded restaurant, combines breathtaking views with an incredible menu to satisfy any palate.
Tip: 
You may also watch the sunset from the sea: there are countless cruises from which you can enjoy the magnificent sunset Santorini is so famous for, including a few stops along the coast and end with a vantage point view by the volcanic islets. Several cruise options feature on-board dining and promise to be unforgettable–without the crowds.
You may ask our reception to book a private cruise for you!
Panagiotis Inglesis is the co-owner and General manager of Athina Luxury Suites, along with his wife Mrs.Artemis Argyrou. Together they had a vision to create one of the best boutique hotels in Santorini and today they continue their vision…Athina Luxury Suites is considered one of the top hotels on the island.