---
Athina Luxury Suites
We have some exciting news to announce! Our new mobile app is available now in the App Store and the Google Play Store to download for all our guests!
The app is compatible with most iPhone and Android devices.
You can download the app even if you do not have a reservation at our hotel. Check information about Athina Luxury Suites and the Esperisma Bar Restaurant. Learn more about our services, useful information about Santorini island and listen our exclusive Esperisma Radio station.
If you make a reservation, then we send you a unique passcode to access various extra features and to be able to make all your requests through the app.
You can find all the information about your reservation like your check-in and check-out dates, your room type and more information about it. Also you can fill your Guest Information questionnaire before your arrival, in order to give us more details about you and your preferences for a smooth and relaxing stay at Athina Luxury Suites.
Also, your personal butler / concierge is unlocked. You can book cruises, hellicopter rides, cars, ATVs, order transfers, taxis, private tours, make a selection from our pillow menu or order in-room dining when you are in the hotel.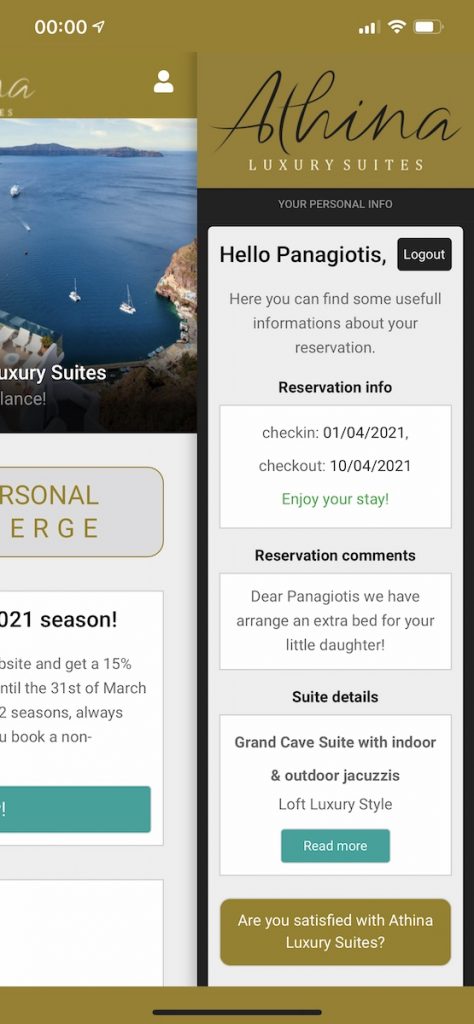 Your personal concierge is now always available in your hands! Call a taxi when you need it easily through us, arrange all your activities on the island of Santorini with a few clicks, order food in your suite, make reservations at the Esperisma Bar-Restaurant, choose your pillow from our pillow menu and hear the sound of our hotel through our exclusive Esperisma Radio!
Stay tuned for exciting news!
---
Panagiotis Inglesis is the co-owner and General manager of Athina Luxury Suites, along with his wife Mrs.Artemis Argyrou. Together they had a vision to create one of the best boutique hotels in Santorini and today they continue their vision…Athina Luxury Suites is considered one of the top hotels on the island.